Shopping Cart
Your Cart is Empty
There was an error with PayPal
Click here to try again
Thank you for your business!
You should be receiving an order confirmation from Paypal shortly.
Exit Shopping Cart
| | |
| --- | --- |
| Posted on December 18, 2015 at 11:00 AM | |
Also on
HUFFINGTON POST

This might sound familiar to regular visitors since I've written about things like Ben's "juggling" before - but not for Huffington. A little bit of lighter stuff for the holidays -- and I hope they are good ones, or at least as decent as possible especially for those grappling with severe autism and other disabilities. Holidays are different for us.
---
In the old, dark Bettelheim days of autism, it was assumed by many that those with the disorder didn't desire communication. We've since come to understand that a lack of ability doesn't necessarily reflect a lack of desire.

But it likely demands, at the very least, a different approach. Some discover analogs. Owen Suskind, for example, is a high-functioning autistic young man who has used dialogue and characters from Disney cartoons to express complex thoughts and emotions, as described beautifully in his father's book, Life, Animated.

However, this isn't just for those with Asperger's or those considered high-functioning, as my own son, Ben -- on the opposite end of the spectrum -- has shown us, for better or worse (though really, it's mostly better).

Ben is very verbal, but perhaps paradoxically, not very communicative, verbally. Most of his vocalizations are quotes from movies and books or things others have said to him ("We have to wait" is usually quoted unhappily). Often they seem random or free-associative, but then a word or phrase will shoot by and we realize it's related to something in our immediate environment or that Ben wants. And Ben always wants food.

It's no surprise that a lifelong favorite book is Eric Carle's The Very Hungry Caterpillar.

I've occasionally referred to Ben as the title character, with his unquenchable appetite, chewing through one delicious morsel after another, each leaving him still hungry. No doubt, Ben relates to that bug.

Recently, Ben made an (as always) impassioned request for "Luna Bakery," a favorite of his. It came before we'd even exited Five Guys Burgers. We told him OK, but it would be a little later. Karen dropped us off to run an errand as Ben and I headed to our hotel room.

As we exited the elevator, there was no question how he was using Eric Carle. In a slow, deliberate cadence, Ben quoted the repeated refrain: "But he was still hungry."

Once in the room, I sat down and checked e-mail as Ben headed to the tray of fruit on the table. When Karen got back, I noticed it was empty and asked how much fruit we'd had.

"Three pears and five bananas."

Ben and Eric Carle hadn't been kidding.

Another oft-quoted Carle book is "The Very Quiet Cricket," which has always struck me as incredibly poignant, being about a young cricket who keeps trying to communicate, all in vain until the last page. Ben will say to us, "The very quiet cricket," which is my cue to say, "He rubbed his wings together, but nothing happened. Not a sound." To which I add, "Poor little cricket," and he's happy.

Some of Ben's "reenactments" can be for recreation more than communication.

There's a Richard Scarry video depicting a gorilla trying to carry a huge stack of books only to stumble and see them go flying, as another character says, "Juggling!"

Who says people with autism don't learn by imitation?

We'll be in a room together and, "Bang!" A book will whack the ceiling and Ben may or may not say, "Juggling!"

We'll be walking through a parking lot with Ben behind us (he's always loved watching peoples' heels), and we'll hear a book fluttering to the ground. "Juggling!"

In the car, a book will slam the ceiling. "Juggling!"

We'll be in a store, and I'll hear the "Bang" and cringe as a book almost whacks another shopper on its descent. "Juggling!"

Eating in a burger joint, we'll hear the whoosh-flutter, hoping it lands across the dining room on the floor and not on someone's fries. "Juggling!"

A metal cage protects the ceiling light in his room which has been busted by "Juggling!"

We always lecture him.

"Ben, you'll hurt yourself!" "Ben, you'll hurt someone else!" "Ben, you'll break something!"

And maybe the only one that would really matter to him: "Ben, you'll lose your book!"

Recently, it finally happened. We were on a highway with the windows open and I heard a brief flutter of paper. By the time Karen and I looked at him, Ben was sitting with a hand in the air and nothing in it. His library now had one less book. And he was guilty of littering.

"See Ben, the book is gone now! You juggled it out the window!"

He smiled and found an alternative in his ever-present big bag o' books.

An hour later, back in the hotel room...

"Bang!"
~~~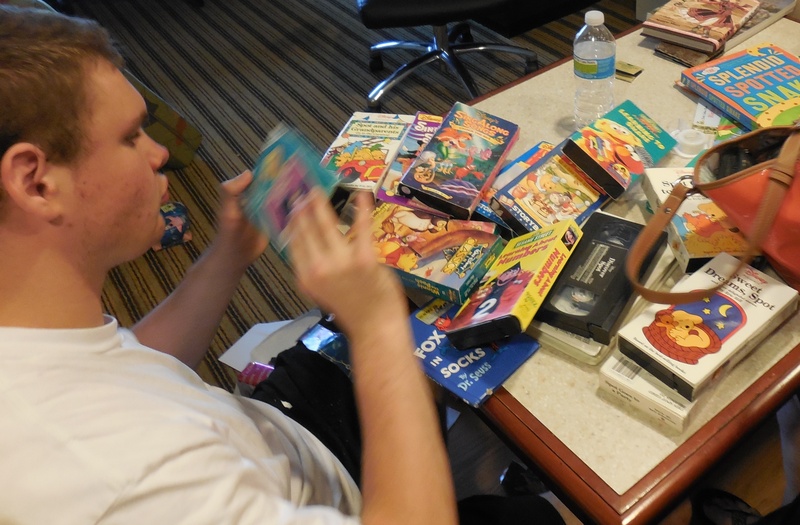 Ben on a birthday filled with books and videos - he can never have too many.
~~~~
Categories: None
/