Shopping Cart
Your Cart is Empty
There was an error with PayPal
Click here to try again
Thank you for your business!
You should be receiving an order confirmation from Paypal shortly.
Exit Shopping Cart
| | |
| --- | --- |
| Posted on September 7, 2015 at 9:00 AM | |
The plan was, yesterday, Ben heads from Cleveland back to Chicago to see family that he hasn't seen for three years, we spend the night in a hotel, and come back to Cleveland today. (We are STILL in the process of working out Ben's adult services residential situation, but can't really talk, er, write about any of it yet.) Ah, autism! Soon after seeing everybody, Ben was ready to get back in the car and come back to Cleveland. It was becoming clear that it could get bad. So, time to cut our losses. By 5:30pm, we were back in the car, Cleveland bound. But since we got back after midnight, technically, we weren't back until today after all! Always look on the bright side of life. And the true bright side: Having spent 12 hours in the car yesterday, it might have been Ben's favorite day EVER.


But it might've gone better if we'd done it differently. We saw the trip in our own naturally neuro-typical way. Ben would love to see everybody, all the people he's been closest to, and the kids who'd grown so much since the last time he'd been around them. We thought he'd like being surrounded, saturated by the love.

What he did feel, we could see, was overwhelmed. He smiled at his Bubbe, aunts, uncles and cousins, gave out some requested hugs, and soon headed upstairs to look around, out of the family fray. And as he went from bedroom to bedroom multiple times, looking at bookshelves, undoubtedly wondering where the old books were, he kept me right next to him the entire time.

We also had not really thought through how Ben himself was thinking this through, how he was anticipating his first visit back to the homestead in 3 years.

And in hindsight, how could I have been so dumb? Last time Ben was here, we were still in our own home, HIS home. He'd slept in his old bedroom on his own bed. He bopped around the house and looked in every closet. He was ready to head back the next morning, a day earlier than we'd hoped, but he'd enjoyed the experience.

So of course, Ben was expecting us to take him to HIS house. And when we left his Bubbe's house, I'm pretty sure he thought we were finally going "home" instead of some hotel.

He didn't like it. Even after a requested DVD was spinning, his agitation and vocal volume rose. When he started hitting himself in his head - which we rarely see anymore - Karen and I knew where this was headed.

If we'd been able to re-start the whole thing, an honest social story about our move into Bubbe's house and away from the house he knew would have been the place to start. Instead of a bunch of family being there at once, a couple at a time would have been better. None of that would have guaranteed an overnighter, but at least it might have made for a better day for Ben. Or at least less traumatic.

So after his second 6-hour drive of the day, we exited the highway at half past midnight, and Ben said, "Go to Wendy's."

Any lingering trauma was over. Ben was back to normal.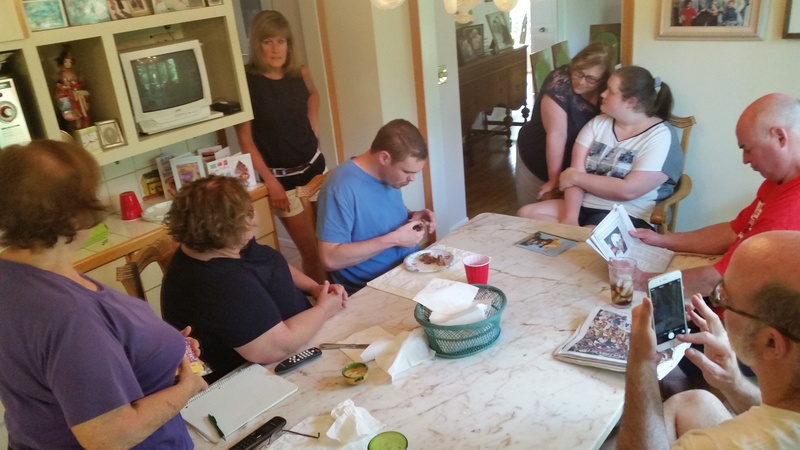 Ben chows down surrounded by family yesterday.

Categories: None
/