Shopping Cart
Your Cart is Empty
There was an error with PayPal
Click here to try again
Thank you for your business!
You should be receiving an order confirmation from Paypal shortly.
Exit Shopping Cart
| | |
| --- | --- |
| Posted on January 23, 2015 at 10:35 PM | |
Ben's gut has always been a challenge for anyone living or working with him. The words "go to the bathroom," in years past, evoked instant panic since typically it meant we had little or no time before the sh*tstorm (and don't worry, this won't be one of >those< posts that are best avoided over dinner). These days it's much, much better but even so, finding a bathroom asap becomes a primary need.

Various evals over the past 20 years have provided no answers, and the good news/bad news this week is, according to the latest, months-long evaluations, he doesn't have celiac disease. The bad news is, he's still got an unpredictable gut. An intolerance for dairy has also been established for him but that's not anywhere near as serious as celiac since it only causes transient and temporary trouble when you eat stuff you shouldn't but, as I understand it, celiac means eating gluten can cause damage to the gut. So score one for Ben. The fewer medical disorders the poor guy has to suffer through, the better.

And speaking of things medical, today was his last check-up at the Cleveland Clinic by Dr. Wexberg (Ben will return to Illinois by the time he turns 22 on July 30). Excellent and likable doctor, terrific staff, but for Pete's sake how I hate the way doctor's offices typically function. We actually called 15 minutes before his appointment, explaining Ben's extreme difficulty in waiting and the volatility that can ensue, and checking how the doc's schedule was going only 15 minutes after his lunch hour and if we should come on time. We were told he was running about 10 minutes late. So we got there 10 minutes late, and Ben happily pranced around the waiting room because he loves going to the doctor. After only a few minutes the nurse put us in an examination room and ran through her questions. Ben was tickled to be there, and was chattering and pacing and smiling and laughing. And there we waited for 40 more minutes.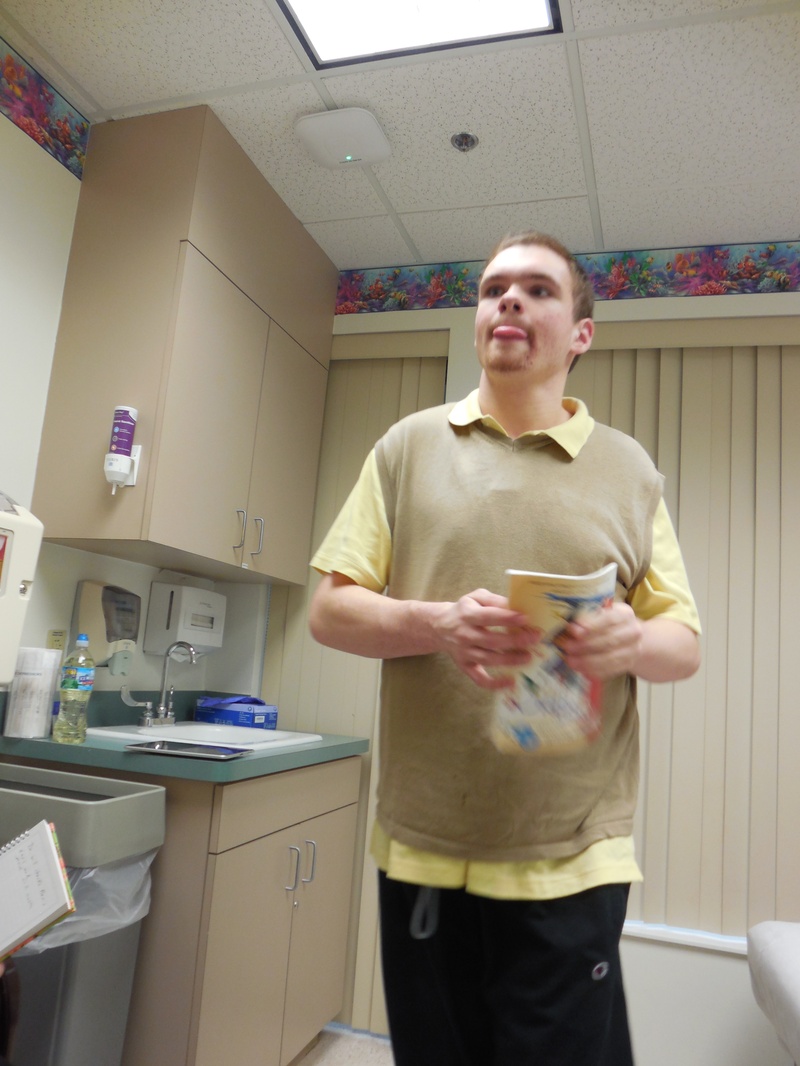 He might love visiting doctors but Ben's hatred for waiting is greater. By the time the doc came in, Ben was agitated, cranky, hollering and handing us his shoes over and over and demanding to "go to the car." As soon as the doc had finished going over Ben's bod, Karen stayed to talk as Ben and I headed to the car. I'd love to find a doctor's practice set up for people like Ben, where the patient walks in, is shown right to an examination room and as soon as the nurse finishes her part, the doctor walks in and does his thing.

Ben takes a while to settle once agitated. It took us 10 minutes to walk the short (30 seconds otherwise) distance to our car in the lot, stopping every step or two and covering his face with wiggling stimming hands. Once in the car he continued his loud crankiness.

But here was a little silver lining, at least for me. Music was playing as we sat waiting, and he seemed noisily oblivious, until the slow movement of Op. 109 began. If you're a Beethoven nut, you might feel, as I do, that his late piano sonatas are as great as anything he (or in my opinion, anybody) ever created.

Ben yelped and bitched and rocked and stimmed and Beethoven's 30th piano sonata (Op. 109) began (a recorded live broadcast played by Elisabeth Leonskaja), and he kept right on protesting the outrage of the waiting he'd been subjected to in the doctor's office. Until the last movement.

Beethoven described it in his score as "Full song with heartfelt emotion" ("Gesangvoll mit innigster Empfindung" and how lovely is that German language, huh?), and it's another one of those transcendent movements that sets Beethoven apart from all other composers before or since.

Dead silence from the back seat. I glanced in the mirror, and Ben was staring straight ahead. A full minute passed before he shifted. When Karen got to the car a few minutes later, he was in a better mood.

When it comes to music, he can't describe it or discuss it, but there's no doubt that Ben loves it, deeply. I'm planning to set him up with an iPod-based music system when he moves into an Illinois group home this summer, and he'll be able to pick and choose what he wants to listen to. He's yet to request Beethoven in the car (though he's asked for Schubert's piano music, which I consider a glorious victory), and realistically, it'll probably be Raffi instead of Beethoven if he ever chooses music at all over Barney or Doodlebops videos. But we can still hope. You never know.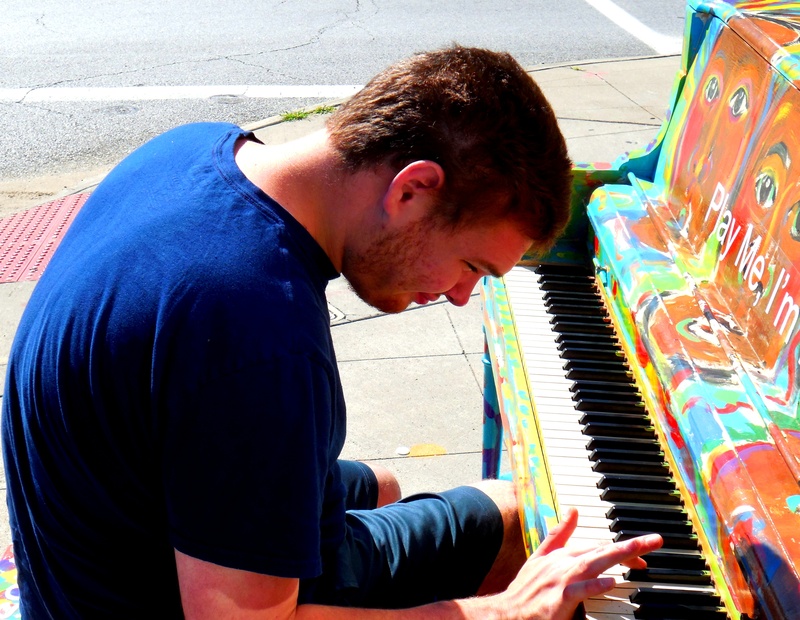 Ben tries out a piano on a street corner dropped off as part of the "Play Me, I'm Yours" artwork adorning Cleveland, July 29, 2013

Categories: None
/