Shopping Cart
Your Cart is Empty
There was an error with PayPal
Click here to try again
Thank you for your business!
You should be receiving an order confirmation from Paypal shortly.
Exit Shopping Cart
| | |
| --- | --- |
| Posted on July 31, 2014 at 11:20 AM | |
As of yesterday, our clock is ticking.
Jake and Ben turned 21.
For Jake, after a favorite dinner (Wildfire for ribs), we went home where a bunch of his friends came by for cake and revelry, and it was what a 21st birthday should be (and more – the peanut butter chocolate birthday cake, whipped up by Bubbe Florence, surpassed anything you'd find in any bakery in this or any other world; in other words, her usual).
Ben got a phone call. We'd arranged this past visit so we could be there as close as possible to his birthday, so on the day before (Tuesday), he had a cake and we sang Happy Birthday to him in our hotel's dining room, surrounded by the friendly hotel staff, and gave him a bag-load of presents. And yesterday, his staff at Monarch also had a party for him and, based on the video clip they sent, he had a great time.
Twenty one. Hoo boy. Talk about mixed emotions.
In a year (actually, 363 days -- the ticking time bomb part), Ben will age out of his current funding into the darkly nebulous and underfunded world of adult services. We are working on plans, plural, because the reality is, families like ours try to have alternative plans B, C, D, and E to go with plan A. Very little is certain in the often do-it-yourself world of severely autistic adulthood.
Twenty one years ago, Karen and I were still at the hospital (twin births got an extra day), getting acquainted with the little creatures we'd just met at 3 AM the day before after a long, useless 20-hour induced labor and eventual C-section. I don't remember most of what was going through my head, but probably blended with the usual new-parental hopes, dreams, aspirations, and blah blah, I do remember thinking that I really had no idea what to expect.
I was spot on.
I don't write much about Jake because, besides his right to privacy, if he wants to share his life with the rest of the world, he has the ability to do it himself.
Not Ben. Not now, not ever, barring a miracle. Sharing with us that he has a headache would be miracle enough. Each birthday, we do everything possible to make it a fun and special one for Ben. As for me, the nostalgic life review that parents drift through on their kids' birthdays conjures beautiful, joyful moments mixed with plenty of struggle, tragedy, pain, and hopes adjusted downward.
We don't dream of a spouse and a fulfilling career and kids of his own. We hope, instead, that by the time we -- Mom and Dad -- check out, Ben will be in a decent living situation, spending his time in purposeful activities that keep him engaged, with kind and competent people helping to get him through his days and nights and months and years.
That would be our dream-come-true for our Big Benny Boy, who now is our Big Benny Man, even if he still prefers Barney the Dinosaur to Barney Fife.
------------------------------
A brief videoclip: Ben blows out the candle
https://www.youtube.com/watch?v=QHmWFD84jSU&feature=youtu.be
(Thanks to Monarch for the clip!)
-----------------------------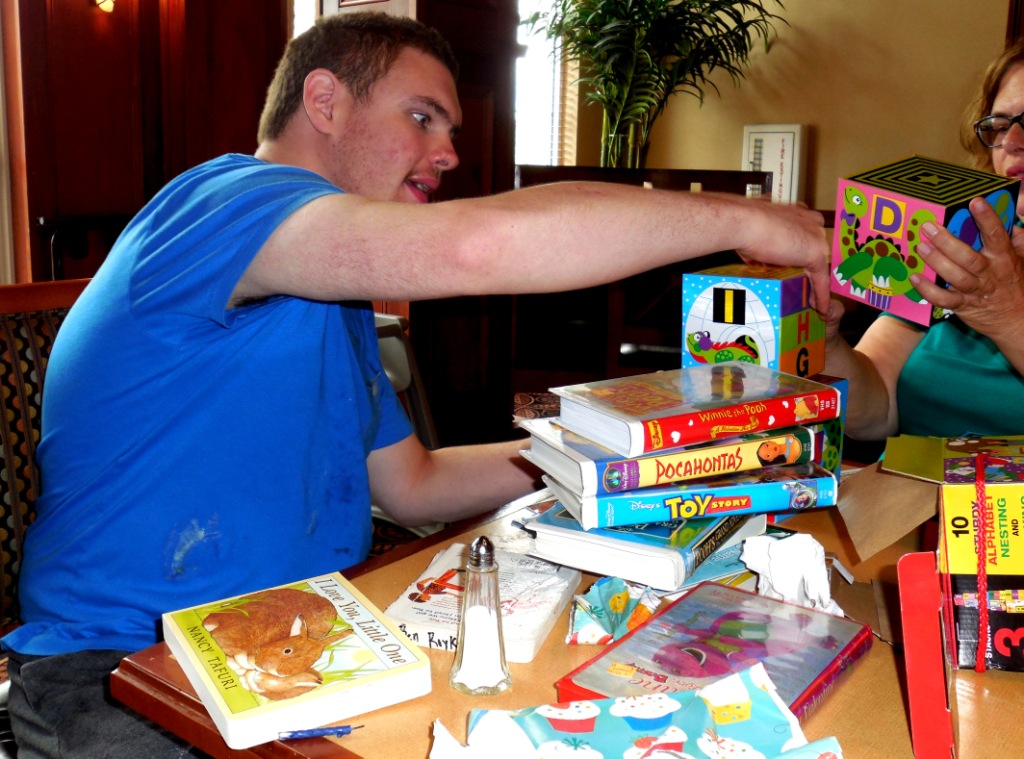 After his cake, Ben digs into his presents on the day before his 21st birthday, July 29, 2014.

Categories: None
/