Shopping Cart
Your Cart is Empty
There was an error with PayPal
Click here to try again
Thank you for your business!
You should be receiving an order confirmation from Paypal shortly.
Exit Shopping Cart
| | |
| --- | --- |
| Posted on March 25, 2014 at 1:15 PM | |
 Virtual Road Raging – An Occasional Distraction from Autism
~
After three years of bi- or tri-weekly (actually, weekendly) 12-hour round trips between Chicago and Cleveland, some very brief observations of rolling metal containers and the blood-pressure-spike-inducing cretins controlling them (myself included).

Part 1 of who knows how many.
The left lane of a highway is for passing, something to be done quickly. I don't mean speeding up (unless the driver appears sloshed). Just keep moving and get past the truck and move back over and out of the left lane. But not the road cretin. While I am in the left lane to pass a truck, another car traveling at my speed moves in front of me to do the same. Fine, no problem and no sign of cretinhood -- yet. Then the car reaches the truck and, instead of maintaining speed, it SLOWS DOWN (and thanks to them, so do I, and everyone behind me, now tailgating my butt). Cretin car then simply matches the truck's speed, only eventually increasing speed enough to sssllowwllyy inch past the truck, sometimes decelerating back down again to the matching speed, before finally finishing crawling past the truck. Then, ONCE PAST, cretin-car immediately speeds back up. This is not an occasional thing. It happens many times per trip. In fact, it's refreshing to be behind a sentient human-operated car that actually keeps on keepin' on while passing an 18-wheeler. I don't believe its fear of the big, scary truck because, hey, wouldn't they try to get past as quickly as possible? I dunno. I have applied my years of training and experience as a psychologist to this, only to remain flummoxed, but it does make me anticipate with pure pleasure a future with driverless cars.
<~>~<~>~<~>~<~>~<~>~<~>
We had a terrific time with Ben this weekend, extended because he had no school Monday and he doesn't like No School Days (always amazing to us!), so we stuck around. And his goatee continues to grow.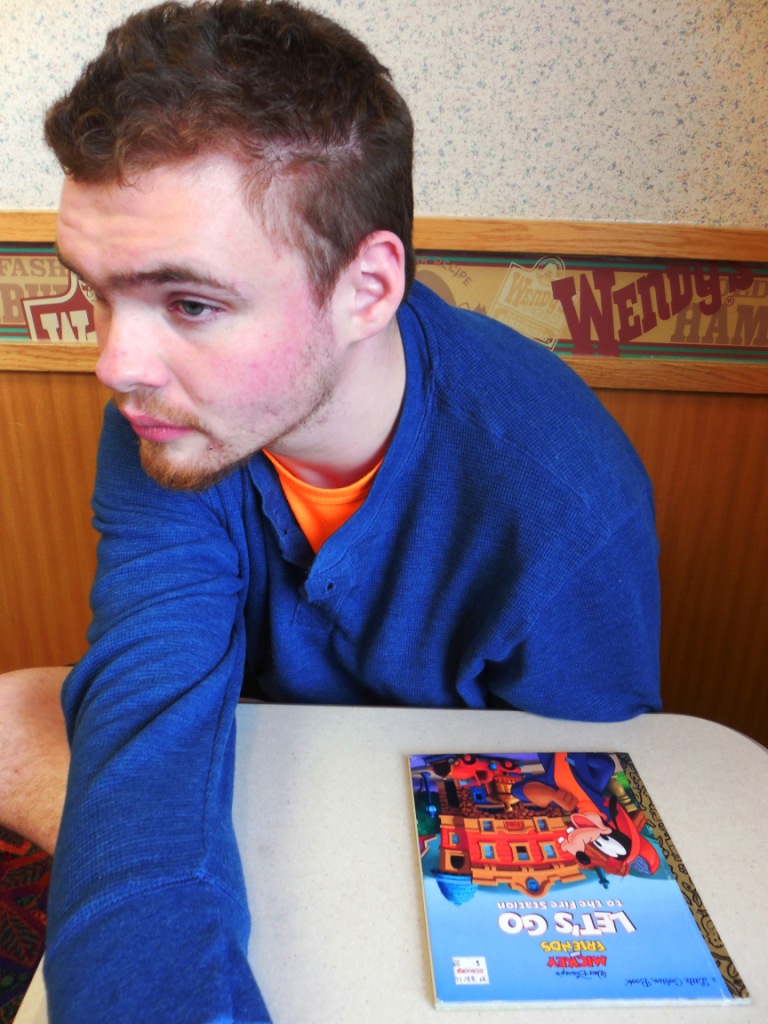 Ben waits, none too happily, at Wendy's, March 23, 2014

Categories: None
/