Shopping Cart
Your Cart is Empty
There was an error with PayPal
Click here to try again
Thank you for your business!
You should be receiving an order confirmation from Paypal shortly.
Exit Shopping Cart
| | |
| --- | --- |
| Posted on January 14, 2014 at 12:35 AM | |
Happy New Year and we hope everyone's having a great 2014 so far. Especially, we hope fellow families with severe autism are having a good 2014, but I'm guessing we'll mostly settle for not-so-bad-so-far.
This weekend was another short in-and-out visit with Ben, dictated by weather and storm-timing. We dodged another bullet, driving back and forth without anything particularly nasty falling from above or freezing underneath. But that meant getting there at around 4:00 Saturday afternoon and heading back the next day (yesterday) mid-afternoon.
Ben was in a great mood, particularly Saturday (he tends to be happiest on the first days of visits), and he also seemed a bit more functionally verbal, the key word being functional. Ben script-chatters (various quotes from his own life and his TV life) and sings snippets of favorite ditties a lot, but often these things appear unconnected to anything going on around him. Sometimes it does seem like a scripted statement is related – drive by a farm and Ben might say, "Spot Goes to The Farm."
Another language quirk is if Ben's asked a "choice" question ("For lunch, do you want a cheeseburger or pizza?"), he'll answer with the last item. Reverse the order, and he'll reverse his answer.
But several times this past weekend, Ben gave a functional answer to questions instead of reverting to his usual way. It's a big deal for Ben to get information from inside his head to another person. Yet another take-it-for-granted skill (funny to think of being able to answer a question as a skill) that most of us acquire "naturally" while Ben has to work like hell for it.
The gluten-free regime is looking like it's having a positive effect for his guts. We're also suspecting that dairy might also be something Ben could have to forgo. THAT would be a heartbreaker. Ben's still enjoying his gastronomic life with various gluten-free substitutes along with plenty of things he loves that are naturally gluten-less anyway (all hail the naturally G-free Reese's Peanut Butter Cups – or at least Ben hails them, and inhales them). Even so, it's hard to have to keep disappointing him when he requests favorite places like Luna Bakery and Starbucks that are now off limits. If the dairy has to come out next, oy.
Gluten-free snacking is what allowed us to watch the previews, and then the clever Mickey Mouse short (or at least it seemed clever from what I could tell -- for us, movies with Ben are about Ben and not the movie), and the first 10 minutes of the latest Disney cartoon (er, I mean "animated feature"), "Frozen," which looked like it is probably terrific. But, when the jelly candies and rice crispy treats were done, so was the movie for Ben. The rest of the watchers in the sparsely-attended theater (7:00PM Saturday showing of a not-brand-new Disney kids' flick) were probably relieved to see us head out. Ben lived up to our nickname for him -- Pavarotti, and full blast -- when we walked into the darkened theater and sat for the previews. But he did seem to enjoy what he saw, so hopefully he'll catch up with the additional 88 minutes on video some day.
And back to his verbalizing; as mentioned before, Ben loves to belt out a tune whenever and wherever he is, very often at the top of his lungs (like in the movie theater), though it's not always music. A favorite Benny-yelp of mine is when he's indoors in a public place and out of the blue, he says -- no, he bellows, "Quiet! Quiet! QuietQuietQuiet!" When he does sing, Karen and I have noticed that he's generally on key and can carry a tune. Last week, we read an article about a recent study suggesting that a medication can cause a side-effect of perfect pitch. Depakote is the med, which Ben took for years.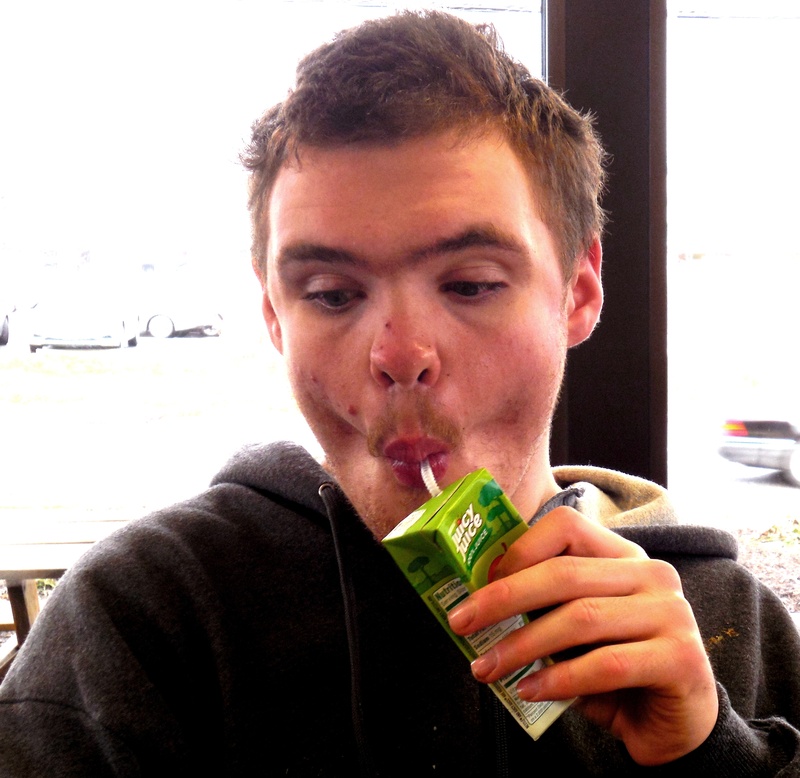 Ben always strives to leave the juice-box bone-dry, January 12, 2014

Categories: None
/