Shopping Cart
Your Cart is Empty
There was an error with PayPal
Click here to try again
Thank you for your business!
You should be receiving an order confirmation from Paypal shortly.
Exit Shopping Cart
| | |
| --- | --- |
| Posted on December 29, 2015 at 4:20 PM | |

What better time than the holiday season to think about food, especially cookies, Christmas or otherwise.

Our severely autistic son Ben has never met a cookie he didn't like. Recently he spotted one on the ground in a park next to a trash can. It was obvious the cookie had been there for a while, half of the frosting worn away by rain or nibbling critters. Ben and I lunged for it at the same moment, except I didn't want to eat it. Yanking it from his grasping fingers, I tried to point out that it could make him very sick. But we're talking COOKIE here. If Ben had been born 30 years earlier, I might've sued Sesame Street for royalties owed for the obvious model he'd provided for Cookie Monster.

And this was a cookie fit for a monster. When I smashed it onto the concrete with full force, I learned that not all cookies crumble. Trying to pulverize it out of temptation, only a tiny bit broke off and the rest bounced. I had to throw the thing as far as I could over a fence, and he was pissed.

A bit of Benny irony: He had been looking for a book lost somewhere in the car, and we'd pulled over so he could get out and search more thoroughly. The parking lot was next to a deserted playground and once the book was found, Ben walked over to take a look and spotted the cookie. But, had we not pulled over, we'd have already arrived at our destination -- Ben's favorite bakery for cookies. Yet even knowing he would get some fresh cookies in five minutes, Ben was still mad until we actually got to the bakery. In Ben's world, every cookie's sacred.

There's severe autism for you. Food issues are common, complicated, quirky and often extreme. Ben, for example, might crave that rotten cookie, but push a grape his way and he'll gag. He once took a bite out of a dishwasher soap bar and didn't seem to mind. Poison Control assured us he might have a stomach ache but would be otherwise unharmed. His "tastes" encompass the edible, inedible and barely-edible, and he's far from alone.

"Been there with a chicken leg, fun like you wouldn't believe," says Bob Hughes, author and fellow dad. "As I walk along with Walker, I have to keep alert to discarded half-filled cups of Coke, half-finished fries, half-finished anything."

Many of our autistic progeny view the ground as an enormous dinner plate. For Ben, if it falls on the floor, it's his. ("Good thing our reflexes are still quick!" says Kathi Yearian, another parent with an autistic son of similar age and tastes.) Then again, Ben feels that any and all food anywhere is rightfully his.

It's not a minor matter. Ben's 22, legally an adult, living in a group home. Regulations protect the residents' civil rights to choose what, when, and how much they can eat. For any dietary restrictions, a doctor must be on board and provide specifics in writing.

Even if he hates them, Ben needs restrictions. Otherwise, and we saw this before he left home at 12 for a residential setting, he would be morbidly obese with no apparent upper limit. If you want to see our fear, take a look at the restaurant scene from Monty Python's "Meaning Of Life." The patron is so immense, a final after-dinner mint makes him explode. Except for the explosion, that would be Ben if he lived his life with no external dietary controls imposed. His doctors agree.

Ben's requests for food are almost constant, his satiation point unknown and maybe nonexistent. Chewing his last bite of a double cheeseburger and fries from 5 Guys Burgers, Ben will say, "Go to Wendy's" before swallowing.

Whether or not Ben officially has Obsessive Compulsive Disorder, obsessions, compulsions and autism often are tightly woven and integrated like threads of a silk sari. Another nightmare of severe autism, it's a big part of what drives Ben in so many ways, especially regarding food.

And like most aspects of autism, we don't know why. Genetics? Environment? Maybe his anxiety surrounding food is connected to his move into a residential program a decade ago and the restrictions that followed. Or maybe not.

Ben's internal struggles make the world a place with dangers and stresses the rest of us really can't imagine. A discarded cookie becomes an intestinal land mine.

Ben's twin, Jake, as he often does, viewed the ordeal from a slightly different angle, deflecting any possible blame from his brother to the real transgressors.

"It's another good reason why people shouldn't litter."

So please world, don't leave cookies out for Ben to eat, especially on the ground in a park.

For the record, Ben disagrees.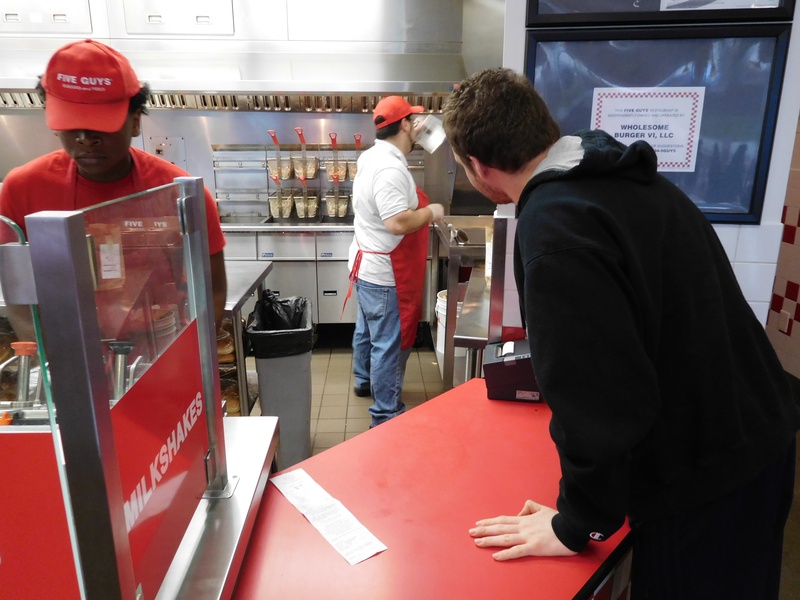 Ben waits for his order

Categories: None
/