Shopping Cart
Your Cart is Empty
There was an error with PayPal
Click here to try again
Thank you for your business!
You should be receiving an order confirmation from Paypal shortly.
Exit Shopping Cart
| | |
| --- | --- |
| Posted on December 16, 2015 at 12:35 AM | |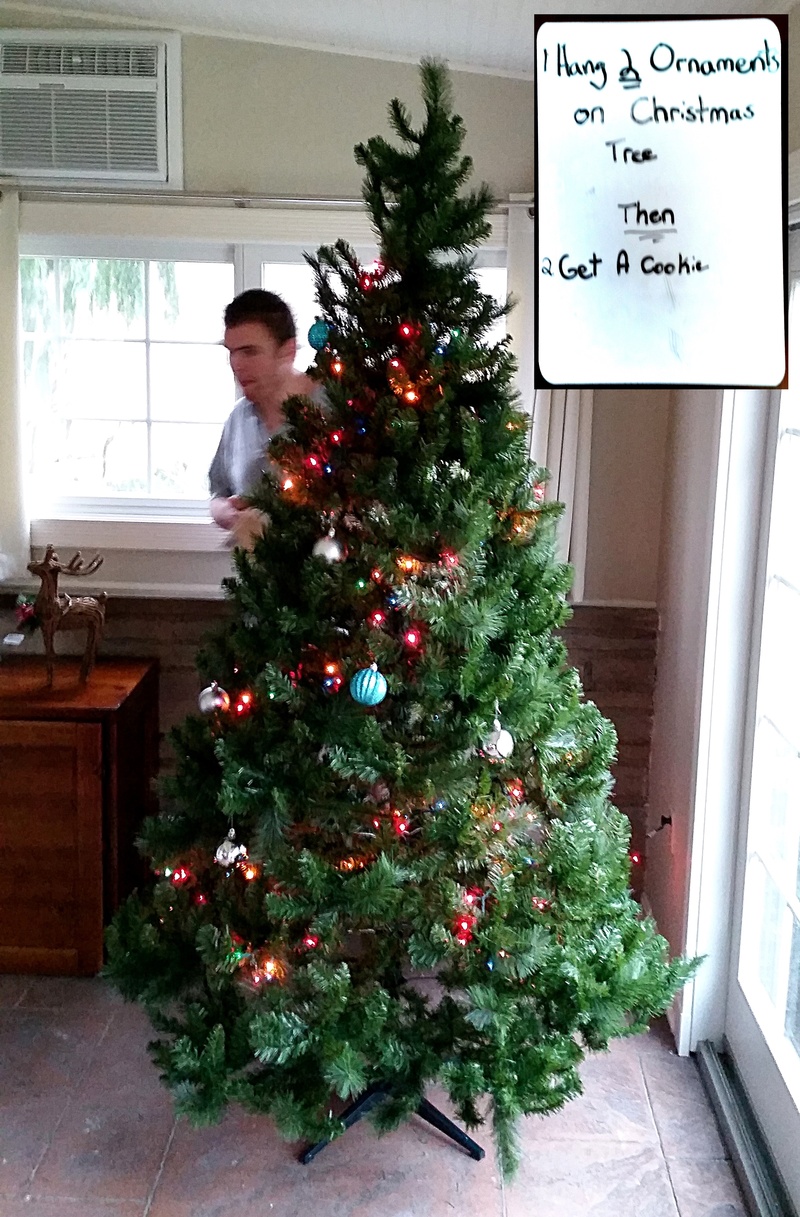 The whiteboard (inserted upper right) lays out the terms in Ben's house, at least for Ben:
"1: Hang Two Ornaments on Christmas Tree, then, 2: Get a Cookie." Talk about incentive.
---

The day I realized Ben was autistic, we sat on the floor as he stared up with a wide smile at the spinning ceiling fan. I thought to myself with a mix of panic and crushing despair, "Anything I supposed or imagined about Ben's, heck, all of our family's future has completely vanished. A year, five years, ten years, twenty years, fifty years, what will it look like?"

We have our twenty year answer: It looks like relocation. Goodbye Illinois.

As 2015 drifts into the past, the last details -- of many -- are being finalized for Ben's permanent change of residence. For the past nine years, he has lived out of state, the huge costs completely covered by Illinois, and if there ever was a tacit admission of absolute failure to adequately care for your own, there it is.

The plan was always for Ben to return, to rejoin the family, friends and support network he'd temporarily, we thought, left behind. Illinois was home – his and ours.

Like it or not, Ben won't be returning. In time, Karen and I also will become Illinois expats.

Twenty years ago, retiring from one Midwestern snow-belt state to a different one would not have been among our hopes and dreams. But hey, what'd we know?

Illinois forced our hand. The adult services provider who expressed the most potential interest in Ben was in southern Illinois, five hours away.

Ben would have been their very first client with autism.

Developmentally, in many ways, Ben's like a toddler, and he would not easily be able tell us if he were being mistreated, neglected or abused. And like a toddler, when he has a tantrum or gets aggressive, it can be bad. They are the kinds of situations that have brought injury and death to guys like Ben in places that don't know how to deal with severe behavioral issues.

"I can't guarantee someone won't get hurt in a group home" is what a professional involved with Illinois's system told us. We know there are no guarantees with anything, but that she felt compelled to point it out says plenty.

And Ben would be their autism guinea pig.

What would you do?

Ben now lives in a group home and attends an adult day program run by an organization we know and trust. The well-trained staff is educated, committed and compassionate. Ben is busy, safe, engaged, appreciated, and happy.

Karen and I have rented an apartment a mile away, for our every-other-weekends with the big guy.

I could write volumes about the crisis of autism and adult services, but I don't have to since Amy Lutz's piece in the Atlantic covers, beautifully, many of these issues: Who Decides Where Autistic Adults Live?

This problem is only getting worse as the autistic population hits adulthood. I don't have all the answers, but I'm pretty sure it shouldn't require permanent relocation to another state.

But hey, what do I know?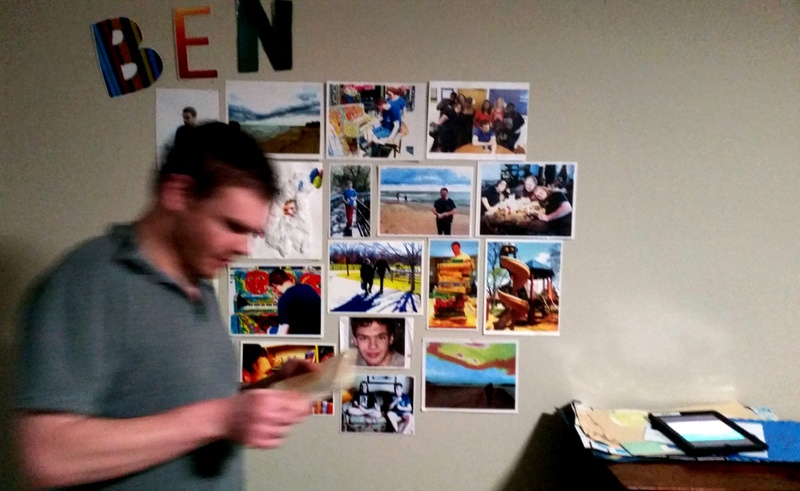 Ben's bedroom wall, decorated by his house's staff.

Categories: None
/