Shopping Cart
Your Cart is Empty
There was an error with PayPal
Click here to try again
Thank you for your business!
You should be receiving an order confirmation from Paypal shortly.
Exit Shopping Cart
| | |
| --- | --- |
| Posted on April 2, 2015 at 8:45 PM | |
Since I'm tired, stressed, fatigued, and even sick, I'm going to use Facebook postings to cheat and cobble something together. Thanks very much Facebook friends for all of your support. And there are no words to adequately express our gratitude to Monarch, the best staff for autism there is, and especially, Bridget, Jenny, Cornisha, Rollie,  Ellen, Allison, nurse Jerry, and _________ (I always forget somebody), and the entire program. To say we couldn't have done it without you is not hyperbole put pure fact.
~~~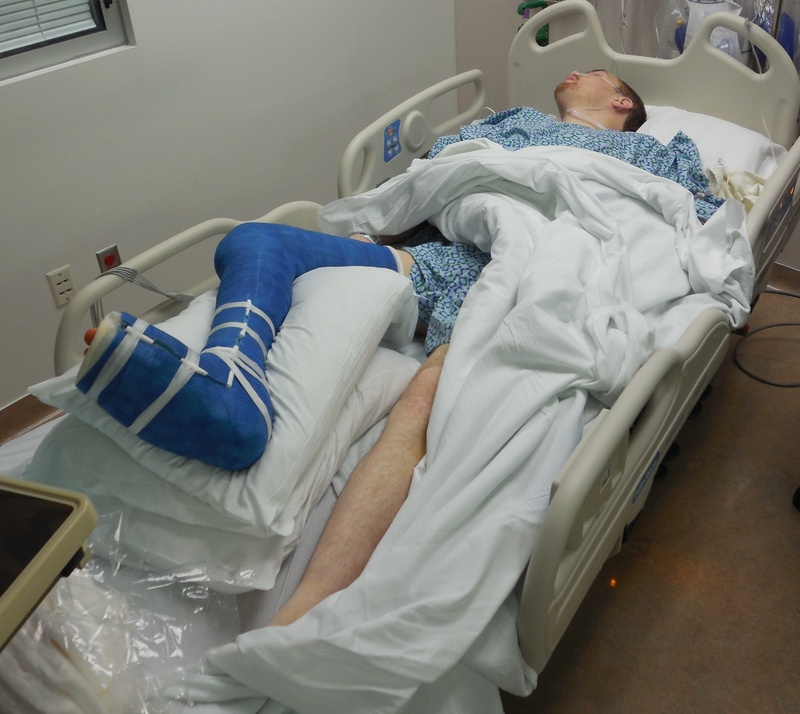 March 31, Tuesday, 9:48am, Cleveland Clinic: Ben's in surgery. The Ketamine injection that started the whole process brought big, apparently terrifying hallucinations, based on his thrashing, his wide eyes darting, his look of fear, and agitation until ten minutes passed post-injection and he started going under. Upsetting as all holy hell. I went with Ben to the operating room until he was completely sedated while Karen sobbed in the waiting room. Part one.

2:33pm: Ben's surgery is done. He's still out, with a huge cast on his right leg, toes to crotch, and the reality is setting in -- the hard part has started. If he could only sleep for the next three weeks.

Molly: Take Karen for a glass of wine tonight.

2:59pm: We will be at the hospital all night with Ben tonight Molly, and maybe more than tonight, so no wine for awhile.

6:13pm: Post-surgery woofing seems over so at least that's done.

7:21pm: Oh well, wrong about the woofing.

April 1, Wednesday, 2:14am: Still up with a hyper, not-happy-but-not-freaking-out Ben, who has been vehemently and constantly requesting to "go to the car" since he came out of the anaesthetic thirteen hours ago. One of my nicknames for him used to be the boy that never sleeps.

2:22pm: We will be leaving the hospital this afternoon/evening, and tonight we will be "sleeping" (haha) with Ben at the hotel, and somebody from his program will be there for eight hours, 10pm-6am, to help. Though he must be experiencing significant pain in his foot which the doctor warned us about, now that the heavy anaesthetic he got for the surgery and that lasts 24 hours has worn off, Ben's not showing it. According to the doctor, this pain is always the case with this kind of surgery, but with Ben, there is absolutely no sign of pain. Ben has always had a very idiosyncratic relationship with pain. I think years of not being able to communicate, whether a thought or a sensation, has created a pain tolerance, and pain acceptance, light-years beyond any of ours. And, it turns out that he is not the boy who never sleeps. He's the young man who sleeps for two hours, from 6am today until 8am. Karen is in her supercharged super adrenaline Super Mom mode, and she has gotten less sleep than any of us.

Molly: Did Karen get some rest?

April 2, Thursday, 11:20am: Molly, afraid not.

11:23am: Currently, I am standing outside our car because Ben's pissed because we're waiting for Karen at Barnes and Noble to buy him a book, instead of going right to the expressway to "drive fast," and he's let me know it, physically (Ben has a long reach). Cast or no cast, Ben's still Ben.

12:20pm: Since Karen's stress level was nowhere near high enough, I figured I'd help her out by getting sick. Karen's back at the hotel to try and catch a couple hours of REM, Ben's doing the same in his bed at Monarch, and I'm in the waiting room at a local Urgent Care joint, predicting an antibiotic. I was just jealous Ben was getting all the attention.

1:40pm: And an antibiotic it is, and it's my favorite kind, a Z Pac that I only have to take five days. Plus a narcotic cough medicine. I am a lucky dude.
~~~
So, it's 9pm and we're wrapping up day three. Ben will be here at the hotel tonight again with us and his helpful Monarch buddy, and tomorrow he'll be sleeping back in his room on campus. Getting him in and out of his wheelchair, to the car, the portapotty, and the bed (the only places he'll be for the next three weeks) is getting easier. We'll be renting a minivan tomorrow to hopefully make it easier for him to get in and out. Things will be day-to-day for awhile.
~~~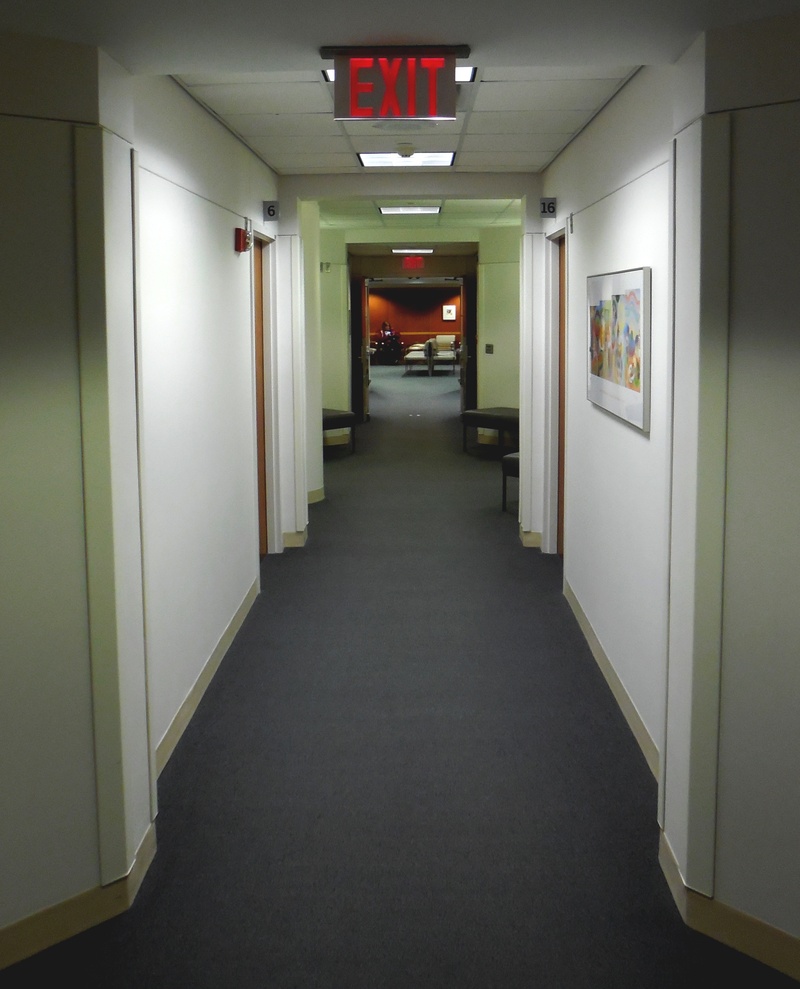 Karen in the waiting room.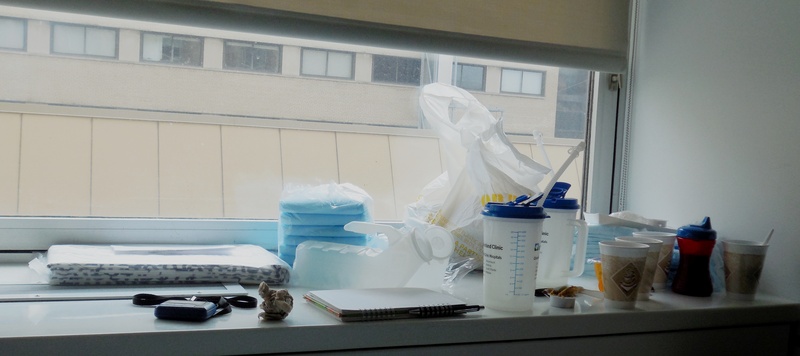 The window sill of Ben's hospital room.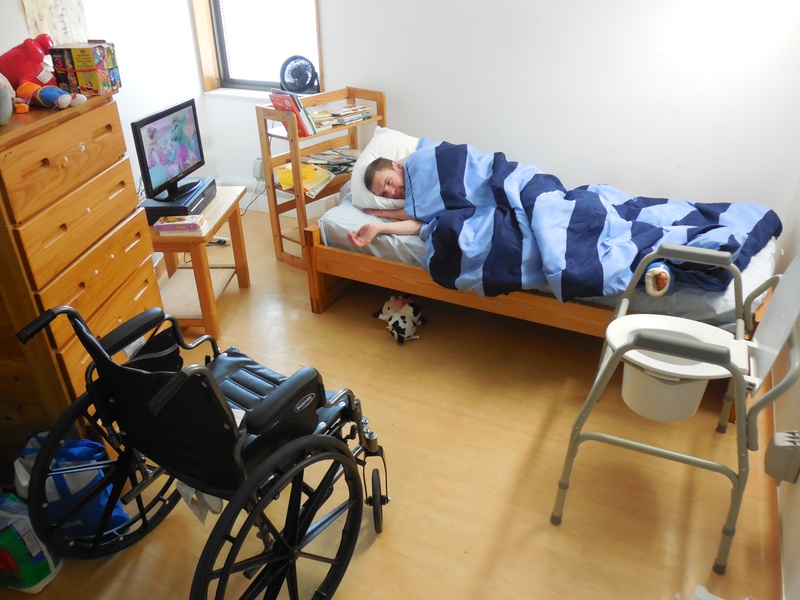 Ben tucked in for an afternoon nap today in his room at Monarch, with all the comforts of home.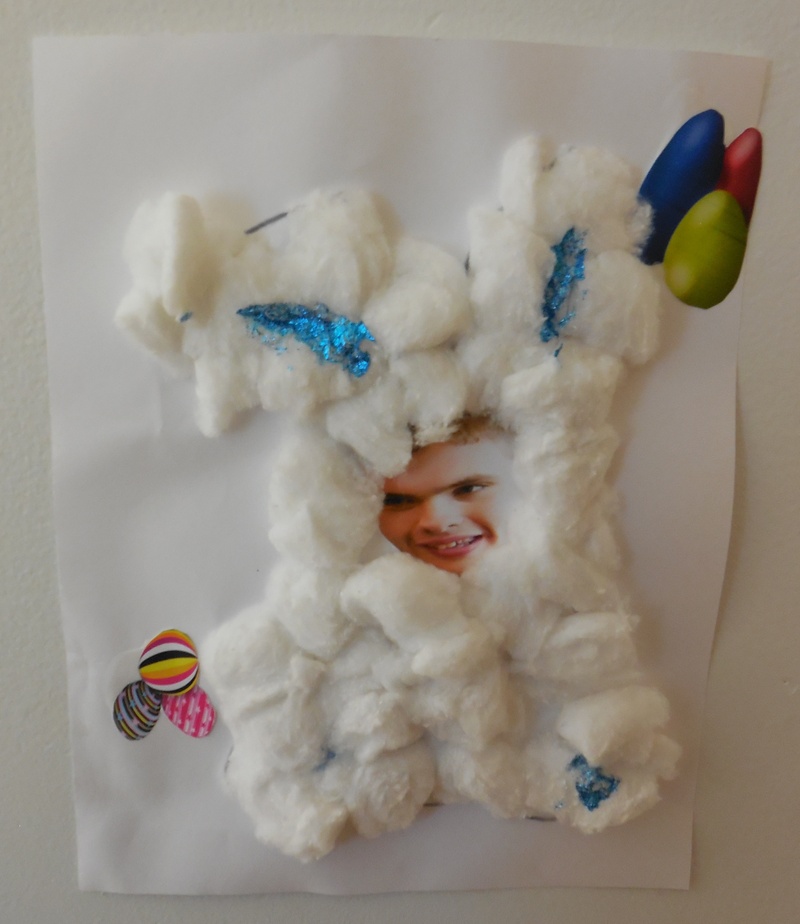 Benny Bunny is a favorite character from an old video, and this is Ben's Easter tribute (I like to think, anyway) that I noticed today, hanging on the wall of his room.

Categories: None
/