Shopping Cart
Your Cart is Empty
There was an error with PayPal
Click here to try again
Thank you for your business!
You should be receiving an order confirmation from Paypal shortly.
Exit Shopping Cart
| | |
| --- | --- |
| Posted on February 25, 2015 at 12:25 AM | |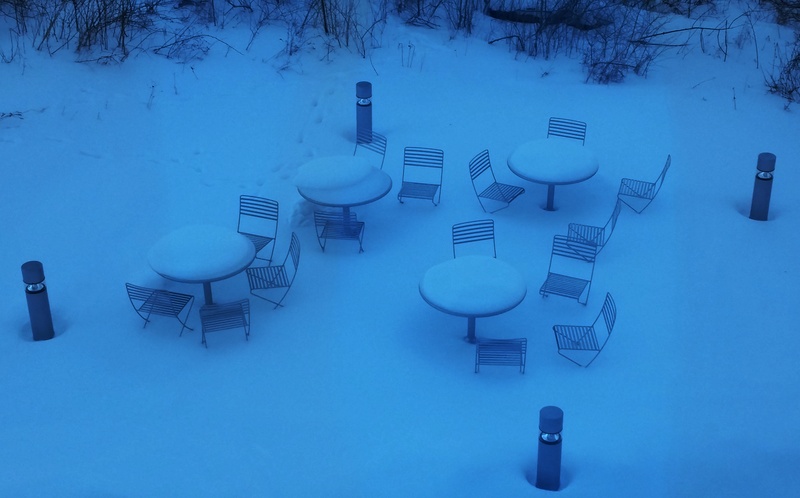 From the (indoor) waiting room of the Twinsburg, Ohio, Cleveland Clinic branch,
February 23, 2015.


Ben's foot is broken. He also needs his Achilles tendon lengthened. He needs surgery and a lengthy recovery. None of this is elective. It's necessary.


[Expletive deleted] [Actually, many really nasty expletives deleted]


For a little perspective, in November, Ben had to be admitted to the hospital and go under general anesthetic.


For a routine dental check-up and cleaning. And that wasn't easy.


What is easy with autism? And this ordeal promises to set a new standard for Ben.


Of course we'll be getting a second opinion, but the Cleveland Clinic doc we met with, and whom we like, is pretty certain.


In brief, part one will be the surgery followed by a six-week recovery. Typically, this would be a one-day outpatient procedure, and Ben would leave the hospital in a splint with crutches and instructions to keep all weight off of the foot. But this is Ben we're talking about. His autism makes him his own worst enemy. As is so often, "typical" is, for Ben, impossible. He will have to be in the hospital overnight, at least.


And he will need a cast. Sure, casts stink for anybody, but for Ben it's beyond putrid.


Ben's cast will have to extend from his foot to above his knee, with leg bent. Otherwise, he will find a way to pull it off. Years ago, Ben pulled a cast off his arm as soon as he got back home from having it set, requiring a new cast extending up his bended arm past the elbow. That full arm cast was for a broken wrist. Also, the bent-at-the-knee cast is needed to keep Ben from putting any weight on the foot. With that cast on, he simply won't be able to walk.


Ben will need to be in a wheelchair during his first three weeks of recovery. Someone will have to be with him 24/7, for everything from dealing with the bathroom to pain management. We're told to expect pain. And we expect Ben will not be in his best mood. Would you?


Just imagine: Ben hates being still. His favorite activity is to take long walks, whatever the weather. When Ben is awake and not engaged in an activity requiring sitting, he paces. Knowing when Ben is in pain is also tricky, to put it mildly. When Ben had his arm cast removed, we found sores from the cast that we knew had to have hurt. But he never expressed it, or not in a way we could understand. Heartbreaking. Ben also has an unpredictable gut. Getting around a bathroom with that cast would be tough for anyone. He also loves taking showers. That's out.


After three weeks comes the follow-up evaluative surgery. Assuming everything is healing right, Ben will get a walking cast for another few weeks.


The surgery's scheduled for March.


Karen had to work hard not to burst into tears as the doctor laid it all out, and she doesn't cry easily. (I do, so it's a good thing I was back in the car with Ben by then as Karen and the doctor talked.)


Karen and I will be there for the first week post-op, and she'll be back and forth throughout his recovery, via car or, if necessary, plane.


This comes at a time where we are deep into the stressful, time-consuming, unpredictable, complex, involved, and anxious process of arranging for Ben's return to Illinois, after living out of state for nine years. His school district funding ends the day before his 22nd birthday in July, and the entirely new (for Ben, and us) world of "adult services" beckons.


One thing at a time, we like to say.


Wishful thinking.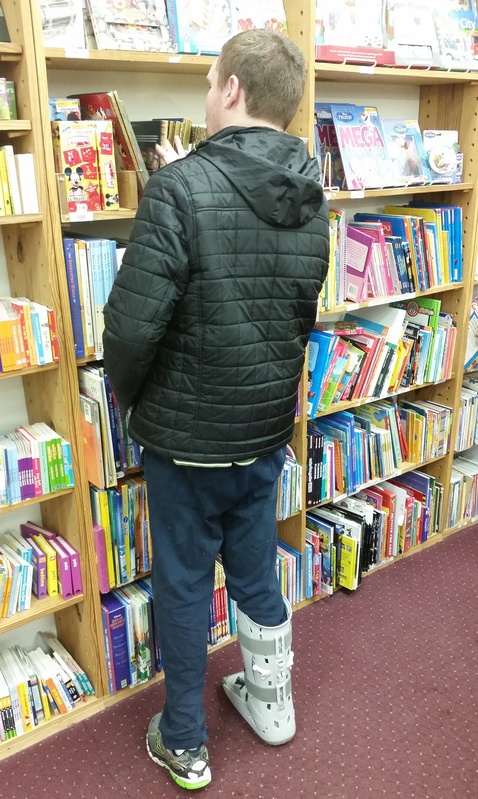 Half Price Books and Boot: A busted foot doesn't keep Ben from browsing in his favorite (non-food) store
February 22, 2015
Categories: None
/