Shopping Cart
Your Cart is Empty
There was an error with PayPal
Click here to try again
Thank you for your business!
You should be receiving an order confirmation from Paypal shortly.
Exit Shopping Cart
| | |
| --- | --- |
| Posted on September 15, 2014 at 3:50 PM | |
Ben, as is the case with many people with autism, loves deep pressure, or squeezes as he calls it. He loves laying down and having me (6'5", and, ahem, not skinny) lie completely on top of him, my dead weight creating what for most people would be a claustrophobic nightmare. He also frequently requests squeezes by saying, "On my back please," which means standing up and giving him a bear hug from behind, as tightly as can be and, if possible, lifting him off the ground. While I can (just barely) manage this, most of his other squeezers are young women who are a foot shorter and half his weight. But his people at Monarch know how to give him what he wants and needs, and here he is under the covers in his bed with the wonderful Violet working on him, yesterday.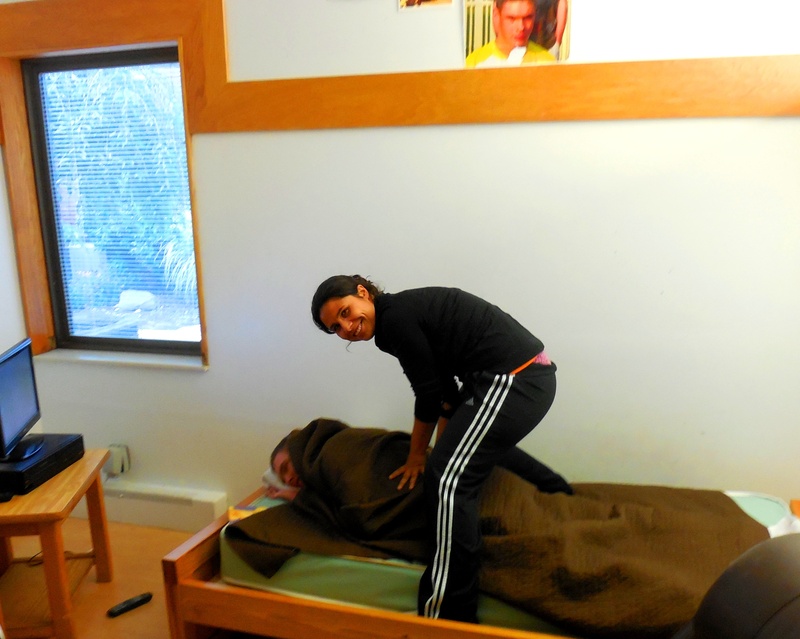 After linking this blog entry to Facebook, machines for deep pressure were brought up, to which I responded: I think it was via Temple Grandin that we first heard about the squeeze machines years ago, and they were several thousand bucks, like a recent one I found on-line for $4525 (plus shipping of course). As with everything autism-related, it'll bankrupt you.
Categories: None
/