Shopping Cart
Your Cart is Empty
There was an error with PayPal
Click here to try again
Thank you for your business!
You should be receiving an order confirmation from Paypal shortly.
Exit Shopping Cart
| | |
| --- | --- |
| Posted on August 18, 2014 at 1:05 PM | |
We have begun our fourth and final year at Monarch (Ben's funding will end on his 22nd birthday in July). We don't like to think about it.


So we'll think instead about the visit we had this past weekend. It held a bit of a revelation.


Ben's very, very, veryveryvery particular about his food, and one way he is no different from so many of us neuro-typical guys – he hates vegetables (fries excluded). So we try to sneak them into his innards. It ain't easy. When once Karen mixed a small amount of super-finely cuisinarted carrots, barely even visible, into his meatballs, Ben attempted to pick a couple of the orange specs out, before simply rejecting them.


It's not just vegetables. Anything he doesn't know or like will not get past his lips.


Karen had just returned to the hotel room with food to cook for dinner. A nice thing about staying at Homewood Suites is the kitchen. Karen can actually cook something. And cooking is her thing. And eating is Ben's thing.


I was posting about Ben on Facebook and was asked what Karen had bought. I asked her, and as Ben paced and watched three videos simultaneously (more about that below), she said, "a half pound of chicken maple sausage patties mixed with a half pound of ground sirloin into burgers, put some tomato sauce and fake cheese on top, and he also has some potato gnochi with fake butter, and some dairy free cupcakes for desert." (Ben's currently on a dairy-free evaluation.)


Now Ben has combo-burgers like that all the time. He loves them. We just call them cheeseburgers. But we now know that his language reception is more advanced than we thought, even when it seems he is completely focused elsewhere. Having heard Karen describe his burger as having something mixed in, he wanted nothing to do with it. Wouldn't touch it. He asked for a peanut butter and jelly sandwich instead.


Then another little shocker. After knowing gnocchi as "little potatoes" all his life (a more descriptive name we've used so he'd know – and eat – what he was getting), for the first time, having heard Karen, he asked for more "gnocchi."


This might not seem like a big deal, but it has certainly opened our eyes. More is getting in there, and understood, than we have realized.


Less of a surprise, but striking nonetheless, are his developing computer skills. In the past, we've watched Ben's attempts at navigating with a mouse, and using it purposefully on screen, with little success.


Monarch has brought him a heck of a lot farther along in this area, too. When I walked into the hotel room with Ben, my laptop was on. Before I knew it, he'd quickly located, among a zillion icons on the computer desktop, the folder labeled "Ben Videos," and clicked on it. Then he scrolled down the list and clicked on the one he wanted. As it began, I was about to take over and click on the little square that opens the picture to full-screen. But he beat me to it. Then he beat me to the volume control to turn it from silent to loud. No help from me at all.


As we've felt from the moment he arrived, Monarch can bring him as far as possible before he plunges into adult services. The goal will then be for him to continue developing, or at least not slide backwards. That will be a challenge that never ends.


This picture is of Ben at the place we often go to "look at the owls," a small bird sanctuary with hawks, eagles, foxes, and owls in one of the Cleveland area "reserves." The board book he chose to carry with him? The Owl and the Pussycat. However, looking at a black hawk while wearing a Chicago Blackhawks shirt? That's one we'll chalk up to coincidence.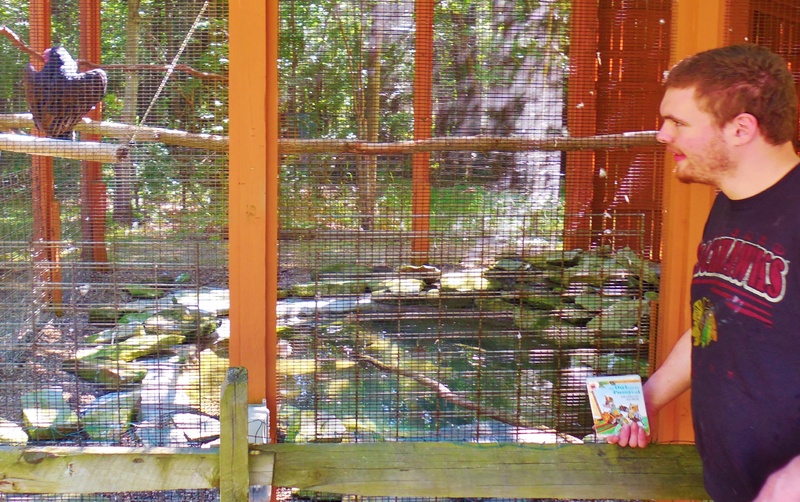 Later in the hotel room, that same book was smashed against the ceiling after which Ben said "Juggling!" It's something he picked up from a video, and he's almost lost a book or two when he has "juggled" outside.


In this pic, Ben's IPad is on the table showing Sesame Street Silly Foods, the laptop in the background has Old McDonald's Farm, and the TV/DVD is running Clifford the Big Red Dog. As he paced all over the place, Ben hollered, "Cow!" Made me think of an avant garde theater production.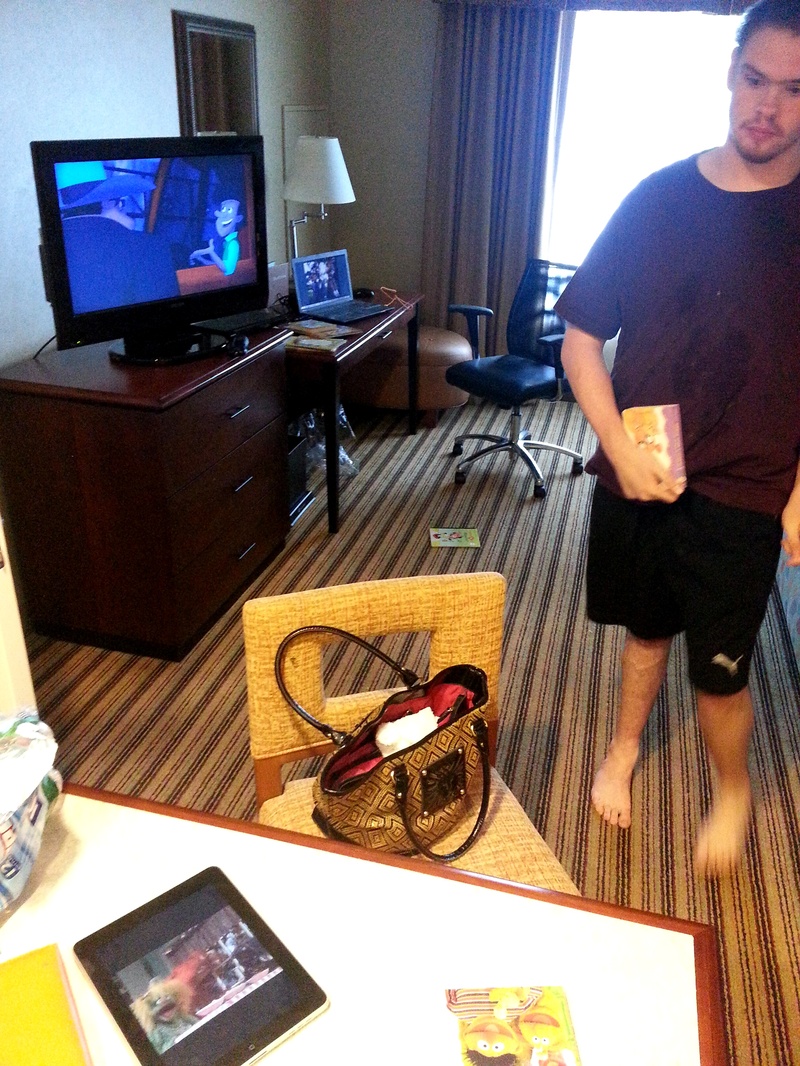 After the videos, we headed out for the day's final early evening "drive fast" through hither and yon. We have yet to locate either one.
Categories: None
/