Shopping Cart
Your Cart is Empty
There was an error with PayPal
Click here to try again
Thank you for your business!
You should be receiving an order confirmation from Paypal shortly.
Exit Shopping Cart
| | |
| --- | --- |
| Posted on February 6, 2014 at 4:35 PM | |
Today we happened upon a blog posting by a waiter describing an encounter with a stressed Mom and her offspring with autism, and it was a terrific example of (a) a waiter who sounds like a genuinely good guy, and (b) the relatively supportive world we now live in, post-autism awareness. (To The Woman And Child Who Sat At Table Nine… By theantijared)
The "relatively" part was something we were reminded of Monday. Our routine with Ben when we honor his request to "go to Denny's Restaurant" is, Order Immediately! The first host, hostess, waiter, or waitress who greets us gets our order immediately, always for Ben only (Karen and I don't try to eat), no menu needed, so they can put it in even before we sit down. I didn't say "before we're seated" because Ben doesn't want to sit, preferring to pace around the place, seeing what other people have on their plates and what's going on in the kitchen. When he's finally gravitated toward a spot with few if any other diners close by, we coax him into a booth and then try to keep him happy until the food comes – always a challenge and, frankly, often a real pain in the ass.
We have always had a good experience at Denny's. They have been accommodating, taking our orders immediately, never requiring any explanation about Ben, and seeming to understand that we are trying to make this as pain-free an experience for everyone – us, them, and especially Ben, for whom waiting brings tortuous – and obvious – anxiety.
Sometimes when the lot is crowded around the entrance, Karen will go in while Ben and I park, adding extra time for the order to get going before we're inside. That's what we did Monday.
By the time Ben and I walked in, things had already gone bad. "Can I see a manager?" Karen was saying to the waitress who was interrupting Karen -- with what exactly, I didn't catch as I was trailing Ben as he did his circuit through Denny's.
I don't want to be too hard on the place because we've been there many times with Ben (always at his request), and they are usually accommodating and helpful in getting us in and out, keeping Ben's anxiety manageable, which is what makes it possible to go there in the first place. Not this time.
Karen walked in ahead of us and asked if we could sit in an empty section, and was told that we couldn't because there was no waitress working that section (which hadn't been a problem on previous visits). She quickly explained that (inhale) our son is disabled with severe autism and has a difficult time waiting and her husband was parking the car and could she please order right away and we already know exactly what we want so we don't need a menu.
The waitress said, or more accurately ordered Karen with an abrupt tone to "wait over there" while she cleaned a table.
The waitress cleaned a table between two tables filled with people. Karen again explained that we would need a table away from other people (the place was almost empty!) and could we please order right now, repeating that we didn't need a menu.
The waitress told Karen that no, she couldn't (or wouldn't) take the order yet as she would have to clean a different (clean-looking) table for us while trying to get Karen to take a menu when she simply wanted to order.
Ben kept exploring the dining room and peering into the kitchen, babbling in his usual way that alerts most of the world (at least the segment that can see, hear and think) that he's not a typical person. We were seated at last.
And she finally started to get it. Ben had to wait longer than usual for his food, and he was anxious and trying very hard to control himself, but still hollered a number of times. The waitress assured us that nobody minded. Really? Well, BEN sure minded, and we minded that Ben was anxious and unhappy. She also had no idea of the bullet dodged because Ben didn't have an aggressive meltdown.
As autism tales of woe go, sure, this is small potatoes. Teeny potatoes, maybe even shoestring potatoes.
And in a way, it's not unhappy. It reminded us of the positive changes that have taken place in our world.
At Five Guys Burgers, for example, another favorite of Ben's, they've come to know us. When the guys see Ben walk in, they throw an order of fries into a bag and hand it to us before we've even ordered so he can go to a table and happily (and quietly) munch, usually finishing as the burger arrives.
They get it.
And as I already mentioned, Denny's, too, is usually fine. This time was an anomaly.
And that anomaly got stiffed. I don't think I have ever done that before. Under regular circumstances, I'm a sucker when it comes to tipping (20 percent is my standard). When we're some place with Ben, it goes up to 25-30 percent.
I didn't want her to think we were simply jerkwads, so I wrote a longish note on a napkin, explaining our dissatisfaction, frustration, and the contrast with other visits, being specific, and saying that we usually leave 25-30 percent -- but not today.
Next time we go back, maybe we'll see if zero percent and the napkin note provided the "teachable moment" that, we hope, will do more good than one tip. At the very least, she got what she deserved.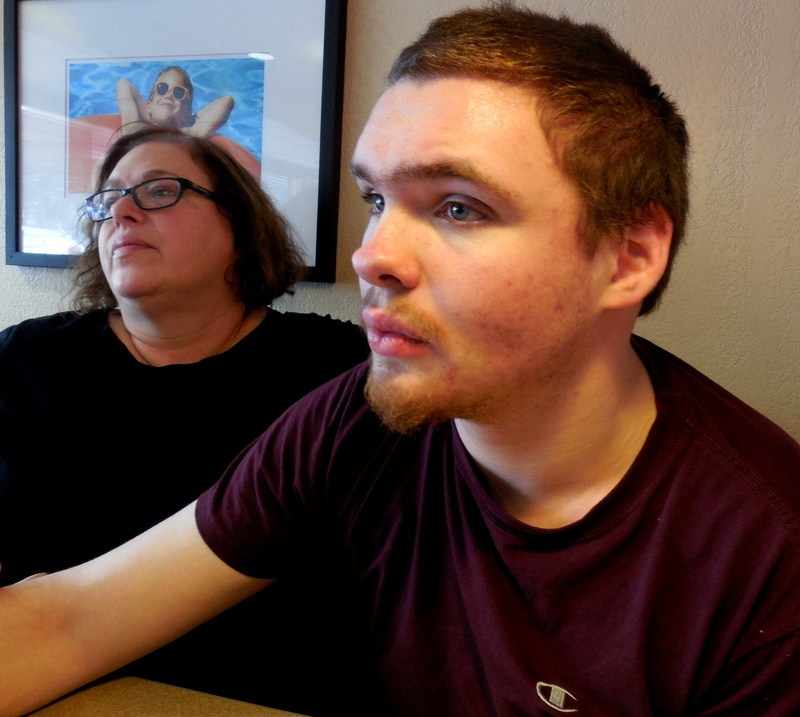 Ben waits for his food.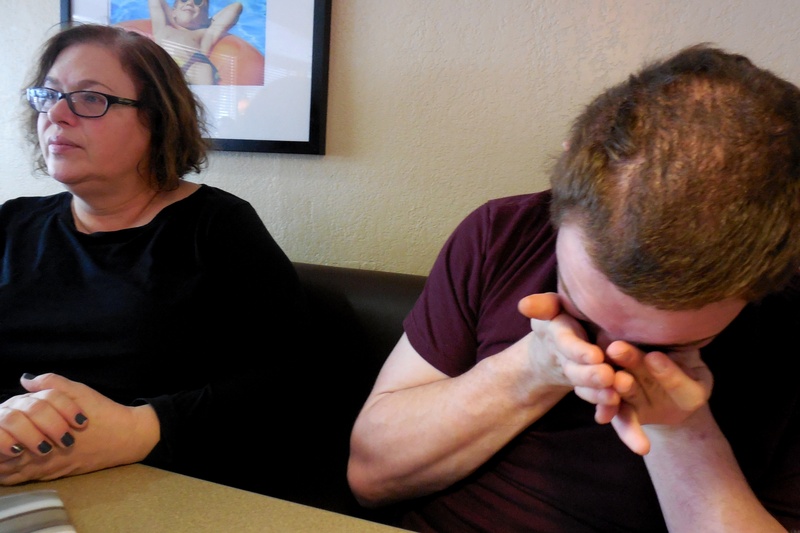 Ben has a hard time as he continues waiting for his order.
Categories: None
/